A PODCAST & YOUTUBE CHANNEL FOR

Are you a small business owner looking for inspiration on your entrepreneurial journey? Then you've come to the right place. 
FEATURING INTERVIEWS WITH...

Small business owners, plus experts in web design, branding, marketing, photography, videography, social media and well-being.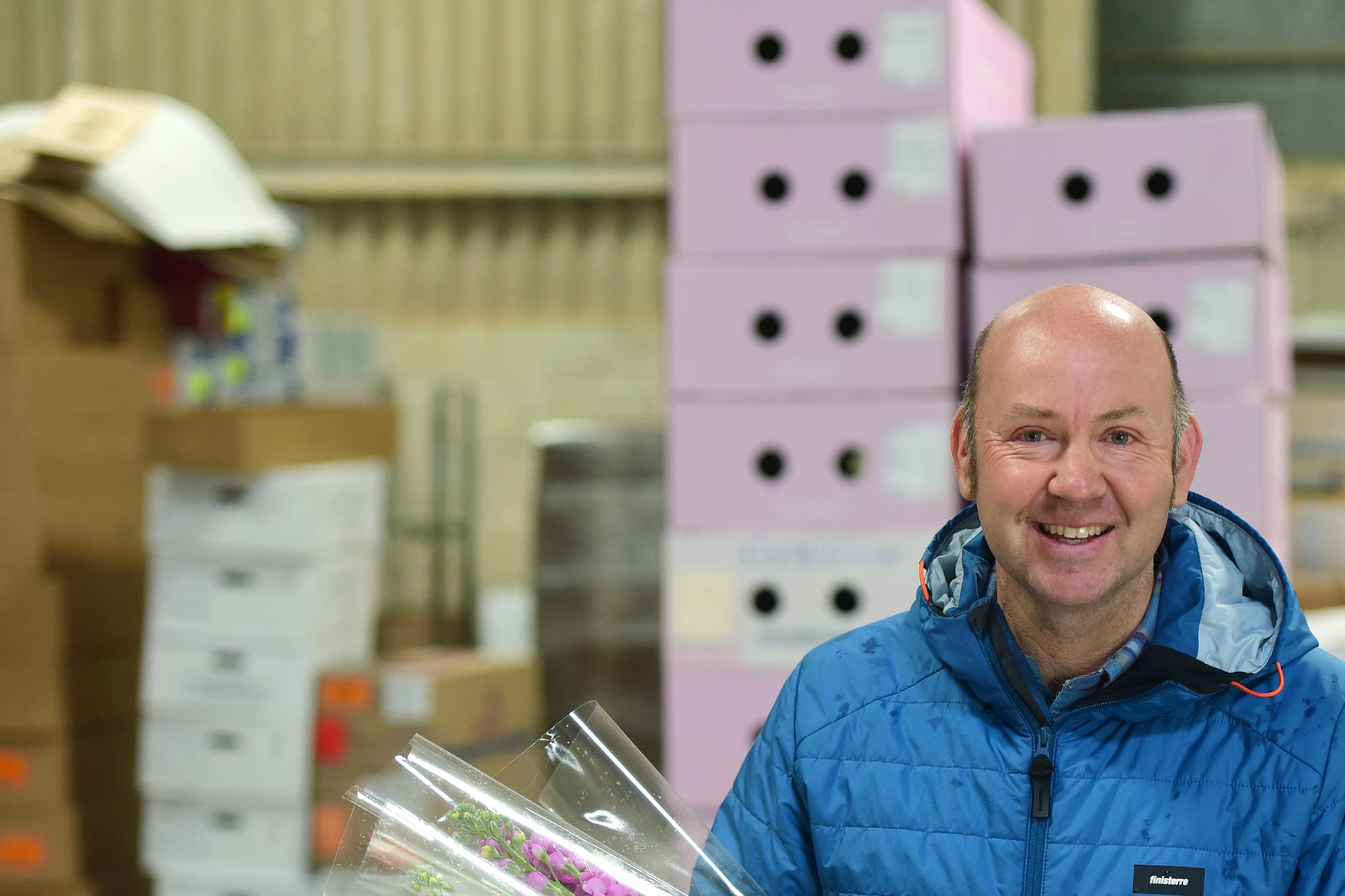 British Cut Flowers Wholesaler James Cock from Cornwall-based Flowers by Clowance shares his small business journey.
Read More
Join me for inspirational conversations every Tuesday…
I'm Rona, the host of the My Small Business & Me podcast. As a small business owner, I can totally relate to the challenges you may be facing.
So, my goal with this podcast and YouTube channel is to help you successfully navigate your way through the ups and downs of your entrepreneurial journey.

Going live on Tuesday, 2nd August 2022
A FANTASTIC NEW PODCAST!
I listened to these back-to-back. A wide mix of guests give some incredible insights into their businesses and their lives, with helpful hints and tips to take away and implement. Thoroughly enjoyed them all and look forward to many more. Huge congrats Rona ... ten out of ten for me!
ENCOURAGING AND WARMING
I have really enjoyed these podcasts, particularly Claire at Honeysuckle & Hilda as I really related to the power of nature to help your mood and mental health. Flowers give me so much joy and make me so happy. It was encouraging and interesting to hear more about Claire's journey.
PERFECT FOR MY SMALL BUSINESS AND ME!
So glad I tuned into this! I needed a kickstart with my website and this podcast gave me the nudge to take the next steps. A great informative podcast.
Thanks Rona! x
MY NEW FAVOURITE
I have been following Rona for a while and once I heard about her new podcast I couldn't wait to tune in! Her conversational tone, easy to take steps and knowledge she and her guest share are nonpareil! It's my new favourite I'm subscribing to; I can't wait for new episodes to arrive!
THINKING ABOUR YOUR WEBSITE
I really found Kelly Sparkes recent podcast with Rona of Flowerona full of useful advice. I've had a Wix website for the length of my business, that I've updated over the years, however listening to this podcast gave me a number of up-to-date tweaks anyone could do and should do... and more importantly why they are important to do! Kelly reiterated why we have a website.. Great listen..
MY SMALL BUSINESS & ME
Wonderful series by Rona Wheeldon of Flowerona highlighting the start-up stories of & for the entrepreneurial spirit. Everyone in every industry has to start somewhere. It is encouraging & inspiring to hear their stories. Trio of tips round out each episode. Thank you, Rona, for yet another avenue for learning!
LOVING THE NEW PODCASTS
Subscribed to Rona's new podcasts as already a fan after completing her Instagram course for Florists. Love hearing everyone's inspirational journeys, navigating our forever changing world and feeling so positive about what's to come. They have all been so informative, really encouraging me to achieve my own goals and continue to learn new creative ideas. Looking forward to next weeks episode already!
THE PERFECT LISTEN FOR ANY SMALL BUSINESS OWNER!
I've really enjoyed listening to Rona interview such a wide range of guests, everyone has something different to bring to the table in terms of business tips, creative insight, and sharing their behind the scenes of running a small business!
I LOVE YOUR NEW PODCAST!
I didn't appreciate you could also watch on YouTube as well! 
I had a quick look on YouTube, but I prefer to listen on here via Apple podcast, as you can listen in the Bath, or whilst relaxing on the sofa and let your imagination flow.
 Brilliant content and tips. Very inspiring. I am looking forward to the next episode!
 Well done! Just what we need to cheer us and keep us motivated in these times!

LOVELY!
What a lovely podcast - Rona is such a comforting, insightful and down-to-earth interviewer with a broad-ranging set of topics & guests concerning running a small business. A lovely treat for a drizzly, cold afternoon. Looking forward to the next one!
LOVE THIS NEW PODCAST!
Such an enjoyable listen, so interesting, informative and inspiring.
Thank you Rona!
SO INSPIRING
Amazing podcast Rona. I now look forward to my Tuesday commute to work! I feel so inspired with your 3 top tips your guests share with us. Thank you so much, Lauretta.
GREAT NEW PODCAST!
Loved listening to an episode of this podcast yesterday and looking forward to another today! Interesting and insightful interviews with Rona @flowerona and guests. Highly recommend!
FABULOUS
Make sure you have a notebook to hand. This podcast is so jammed pack with helpful tips, you'll want to note them down. Very thought provoking and invigorating. I just love it! Thank you Rona, this is just spot on.
BRILLIANT!
Well done Rona for putting together a podcast with well-being and small business at its heart. Very much enjoying hearing the journeys, the highs as well as the lows and the honest conversation. Thank you!
THANK YOU!
I'm learning so much from this podcast. I love the way each episode provides some wisdom and insight into a different area of business such as photography, social media and website development. A great podcast not only for florists but any small business owner.
LOVING THIS PODCAST
Just discovered this fantastic podcast which I am loving. I'm new to the flower world and have 'unearthed' some lovely podcasts to help me on the growing side of things. But Rona delves deep into the business side which I'm totally clueless about. I loved her interview with Jess from Lolly & The Hare. And today I listened to Emma Soulsby's. Both women are incredibly inspiring. I can't wait to see who she interviews next.
MY SMALL BUSINESS & ME
Rona, loving listening to you and your guests. How could anyone who loves their flowery business not be riveted by all the tales of how it all started for them? Your lovely gentle style shines through in the questions you ask. And I am all ears for the closing moments of each podcast when each business shares three nuggets of advice from the things they've learned on the path to success. Thank you for such a great listen.
AN ABSOLUTE MUST FOR ALL FLOWER LOVERS!
Wonderful conversations from such inspiring people in the floristry world. I'm just loving listening to their stories, & their experiences (both good & bad) & really appreciate their total honesty. Great pieces of advice & I just love their company while I'm conditioning my flowers & cleaning all my buckets.
MY SMALL BUSINESS & ME...FABULOUS!
Another great source of information for small biz owners from Rona. Being in the floral/wedding business, I am on the road frequently and Rona's podcast has become one of my favorite ways to learn while I drive! I particularly love how her guests share their business history and how they got to where they are now. Her interview with Shane Connolly is particularly interesting... lots to be learned from his substantial experience! Bravo Rona... looking forward to future podcasts!
INSPIRING & INFORMATIVE PODCAST
I've recently started listening to Rona Wheeldon's "My Small Business & Me" podcast and I'm finding Rona's guests so inspirational - as well as providing lots of helpful hints and tips along the way. Rona has such a calming voice and the pace of the podcast is gentle and relaxing - it's like I'm listening to two friends each time. I love how each interview ends with the guest speaker's top 3 tips which are often so reassuring. As well as enjoying the life stories of each guest, I've learnt so much too.
HIGHLY RECOMMEND!
Having come across a post on the flowerona for florist group on fb I was curious to see what the podcasts were all about. I listened to a wonderful podcast with Rona and Rachel Bull @houseofdandelions. I was completely inspired and listened to the whole 45 mins! The topics they chatted about were so relatable and also learned a few tips along the way.
A MUST LISTEN FOR SMALL BUSINESSES
I just listened to Rona interviewsing Fiona Humberstone and it's a great listen! So much useful information about styling your brand. I've listened to a few other episodes - Rona's guests are always so interesting and inspiring.
LISTEN EVEN IF YOU ARE NOT IN THE WORLD OF FLOWERS
If you are in the world of flowers or not Rona's podcasts are a must listen. Really informative and enjoyable and always full of great advice. I have just listened to her chat with Shane Connolly and it as a joy and took me back to my earlier days in horticulture and I love the top tips and definitely agree with Shane's last one - warm socks are a must for any florist !!! Thank you Rona for creating your podcast.
GREAT PODCAST FOR SMALL BUSINESSES
I'm so glad I've found another podcast to listen to alongside Girl Flower Podcast. Rona has a really good range of guests covering different subjects suitable to all small businesses (not just florists). I've already learnt a thing or two from listening to her guests.
Rona has been a wonderful support and inspiration to florists worldwide over many years. Her newest offering 'My Small Business and Me' is perfect for listening to whilst in the garden and learning about the passion behind many of the stand out Florists and others involved in the industry. As someone in Australia I love to keep in 'contact' with what is happening elsewhere in the world and how I may be able to incorporate some of that wisdom into my small business! Thank you Rona